The Pixelmator Team today released Pixelmator Pro 1.1 Monsoon, a massive update to the world's most innovative image editing app for Mac. The update adds a modern way to easily prepare images for the web, brings machine learning-powered Auto Color Adjustments, support for the MacBook Pro Touch Bar, a new Slice tool, SVG support, a new Tutorials page to help with learning Pixelmator Pro, and much more.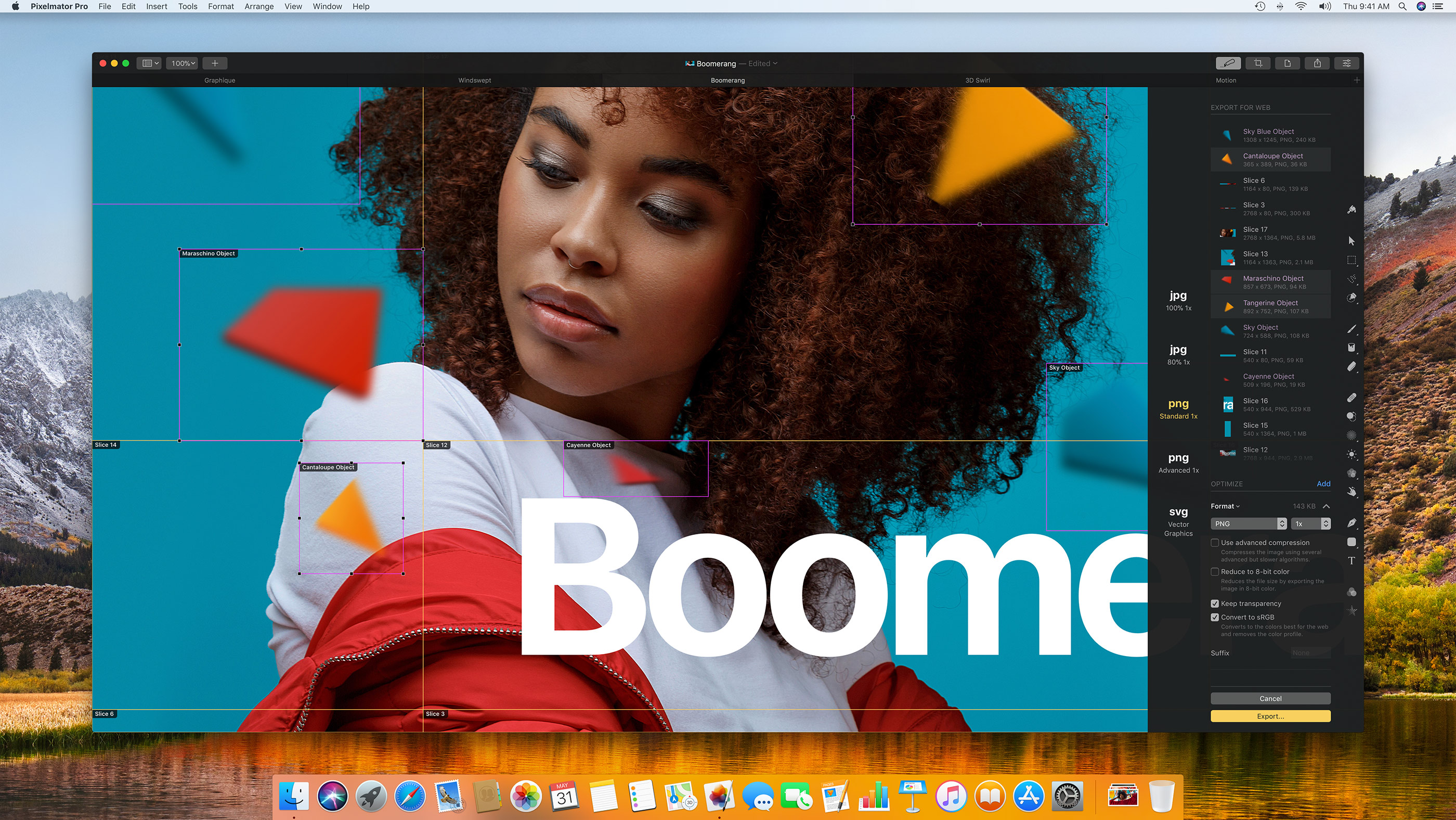 "Pixelmator Pro 1.1 Monsoon is an absolutely massive update with tons of great new features," said Saulius Dailide, one of the founders of the Pixelmator Team. "With the innovative new Export for Web features, it's now easier than ever to prepare and optimize images for the web. And Pixelmator Pro continues to push the boundaries of image editing with the new Auto Color Adjustments, which take advantage of the latest advances in machine learning and computer vision to automatically improve photos."
Pixelmator Pro now gives you everything you need to prepare and optimize your images for the web. You can use advanced compression techniques to compress images to the smallest size possible without losing quality. Export presets let you quickly optimize images with your favorite settings. As you adjust any export settings, Pixelmator Pro displays a live preview of the optimized image right in the Pixelmator Pro window. Quick Export lets you instantly export a web-friendly image optimized with your most-used settings at any time. And the new Slice tool makes it much easier to prepare web designs by letting you divide entire designs into smaller images, optimizing each one separately.
With the new machine learning-powered Auto White Balance, Auto Lightness, and Auto Hue & Saturation adjustments, you can automatically perfect the colors of a photo with just a click. The machine learning algorithm was trained on millions of images to identify the contents of a photo, finding the best colors, lighting, and contrast to make every image stand out. Integrated via Core ML and powered by Metal, the Auto Color Adjustments deliver lightning fast performance and stunning quality.
Full support for the MacBook Pro Touch Bar gives you quick access to all your favorite tools and all kinds of useful options. You can apply color adjustment or effect presets, select colors for your brushes, and even share your image, all right from the Touch Bar. And whenever you switch tools, the Touch Bar automatically changes to put the most useful options at your fingertips, which makes using Pixelmator Pro simpler and easier than ever.
Pixelmator Pro 1.1 Monsoon includes many more incredible new features, including support for opening and exporting vector images in the SVG format, live previews when formatting text and adjusting layer blending options, a Select Color Range tool that lets you make selections of similarly colored areas in an image, support for exporting HEIF images, a new Tutorials page to help with learning Pixelmator Pro, and much more.