2019-04-09 14:20:19
Just downloaded and wanted to play with an image. Decided to bring in a RAW image (Sony A6500) from my iCloud photo library, and it can't be imported. Any ideas from anyone?
2019-04-09 14:35:08
What kind of alert are you seeing? Also, do you use any third-party storage providers and are you tapping the '+' button while being in a location within the Files app such as Dropbox?

2019-04-09 14:38:10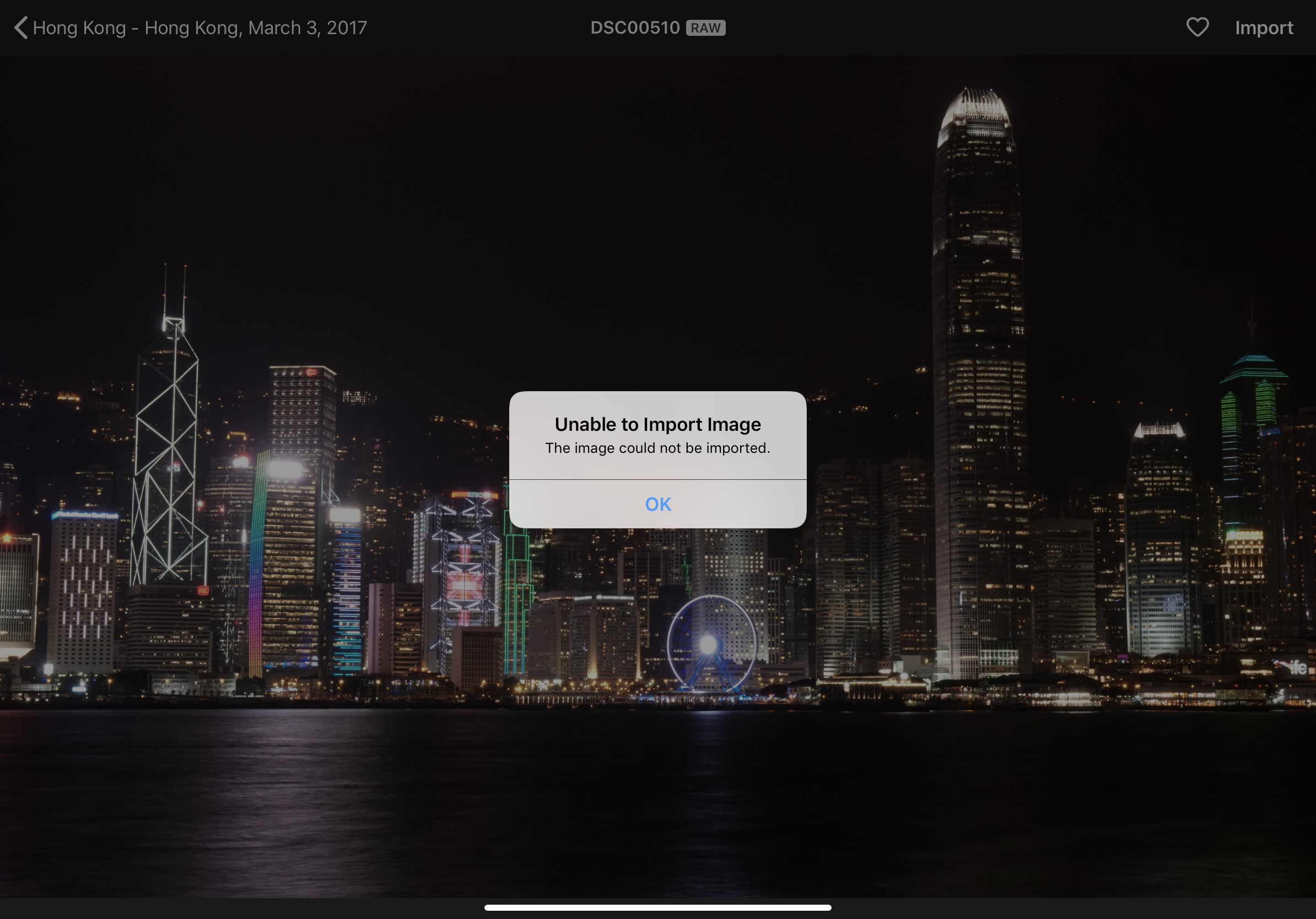 I'm in iCloud Drive when I hit the plus button. This is a screenshot of the error.
2019-04-09 14:43:38
In that case, I've got a few more questions:
1. What specific device are you using?
2. Which version of iOS are you on?
3. What camera model is the RAW from?
4. Would you be able to upload the RAW file to
http://upload.pixelmator.com
and paste the link here or email it to us at
support@pixelmator.com
?

2019-04-09 15:01:02
iPad Pro 11"
12.2
Sony A6500
Yes

Also, I may have discovered the issue. This is stacked RAW/JPG. Photos is seeing it as a JPG, but Pixelmator Photo is seeing it as a RAW. This might have something to do with it. I'm going to try and edit a non-stacked RAW and update as well.

2019-04-09 15:03:10
Uploaded. First attempt to export these from photos resulted in a crash, so who knows. Looks like Photos was having trouble getting them out of iCloud the first time too.

2019-04-09 15:09:15
So, attempting a different stacked image resulted in an error, but regular old RAW images from this camera work fine. So, I think that's the issue. (Pixelmator Photo doesn't even seem to notice the JPG portion of the image)
2019-04-09 16:20:20
Awesome, thanks for taking the time to dig deeper into this!

P.S. You mention you uploaded the RAW file but without the link, we aren't able to download the file, so if you could possibly upload again and paste it into your comment, that would be much appreciated. For testing purposes, of course.