2021-01-08 08:39:55
You could do one of three things:

1. Use the Pen tool to draw it yourself
2. Download an image of a waypoint icon, select the colored areas and convert the selection into a shape
3. Find a waypoint icon shape in SVG format and open it in Pixelmator Pro

With each method, you can then save the shape to the Shapes Browser.

Hope that helps!

2021-01-08 16:52:27
Apple's SF Pro app has a few map icons but curiously not quite the one you are asking about.
2021-01-14 12:26:17
This shape was also available in the custom shapes collection we did a few years back:
https://www.pixelmator.com/blog/2013/06 ... om-shapes/
While the shapes were originally designed for Pixelmator Classic, they should work just as well in Pixelmator Pro. To install the shapes, just drag the NewShapes.pxs file that downloads to the Pixelmator Pro icon in the Dock.

2021-01-14 13:07:08
I have install them but I don't see the correct shape back. It shows a part of the collection.

2021-01-14 19:02:39
I imported that file and can only see 2 x 15 icon with three 'pages' of shapes. One page is empty
2021-01-15 12:40:06
If you're looking at the illustration of the article — it doesn't represent the contents of the shape collection. It features the shapes available in Pixelmator Classic, both the custom and the default ones. You can now find most of the shapes from Pixelmator Classic in the "Basic", "Work" and other shape collections in Pixelmator Pro.
The shape collection itself has 31 shapes in. You can expand the shape presets view or narrow it down to show more or fewer pages. Depending on the number of shapes in a collection, the pages may be all filled or have just a few shapes in them. This doesn't indicate that there are shapes missing.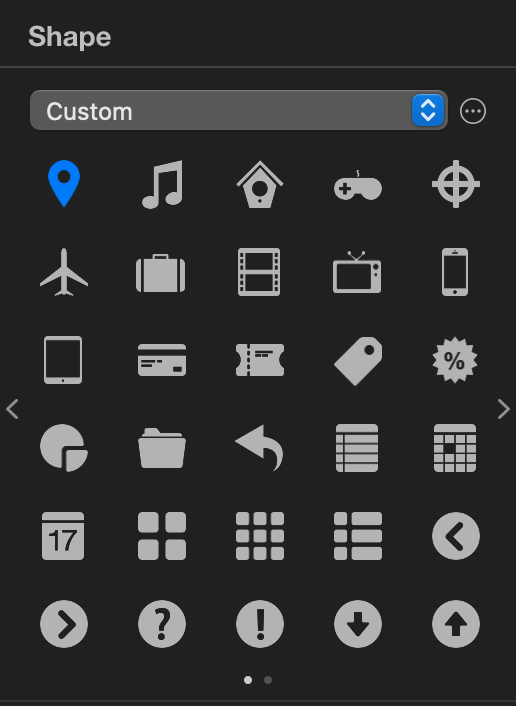 2021-01-15 16:26:42
Still only see 30 shapes from the file provided. However, I did find the map icon in the Shapes of Pixelmator and was able to copy/paste into Pixelmator Pro after placing it in a Pixelmator workspace, if that helps.
2021-01-18 11:15:20
Glad to hear you've found a workaround! Although, it's a bit weird that out of all the shapes in the collection, the location pin is the only one that's missing. Wonder if the same happens in Pixelmator Classic?