We get asked this quite a lot — "So, what's the difference between
Pixelmator
and
Pixelmator Pro
? I already have Pixelmator, why should I switch?" We don't think a comparison table is the best way to explain the difference, but since it's a pretty common question, we thought we should take the time to answer it.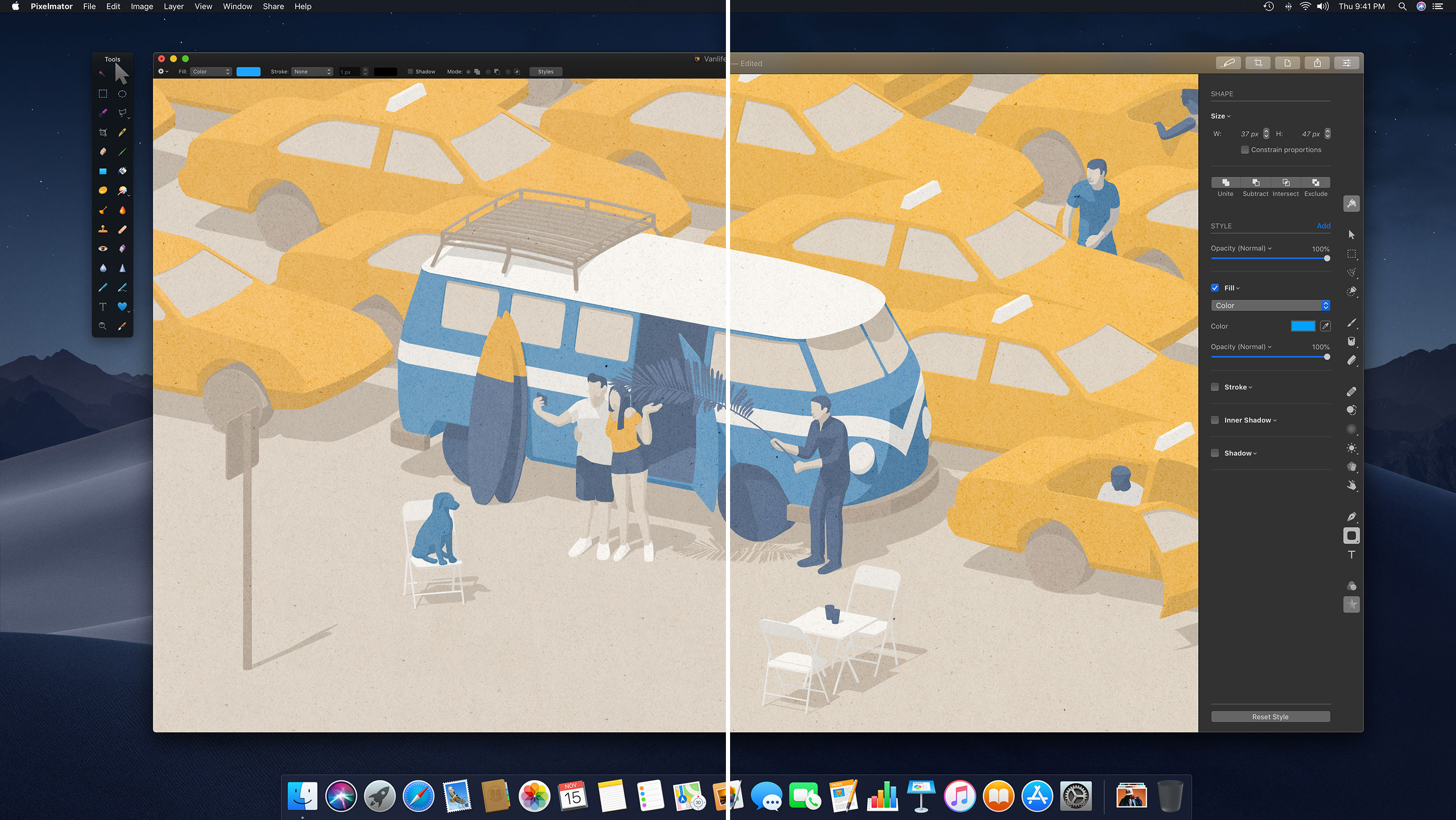 Same idea, new approach
Possibly the most important thing to start with is not a difference, but a similarity. The idea inspiring Pixelmator Pro is exactly the same as the idea behind the original Pixelmator. Making powerful but complex pro image editing tools easy to use and accessible to everyone. Even your grandparents. Pixelmator Pro is not a 'professional' version and Pixelmator is not an 'entry-level' version. Both apps are focused around time-tested image editing tools (and some innovative new ones).
So if both apps are inspired by the same kind of thinking (the Pixelmator philosophy), how come they're different? With Pixelmator Pro, we wanted to be more true to ourselves and more trusting of our own intuition instead of relying on established approaches. Pixelmator Pro is the realization of that vision — a new approach to the same idea.
The future of Pixelmator
The original Pixelmator has been in development for almost 12 years. While it's a fantastic image editing app, without a complete rewrite, we'd be much more constrained about the new features we could bring to it. In software development, you sometimes reach a point where you have to start from scratch to make sure you're equipped to face the future. We now know a lot more than we did when we started and we put that knowledge to good use with Pixelmator Pro. It has a very solid foundation on which we can build without reaching roadblocks. So another difference between the two apps is that Pixelmator Pro is the new Pixelmator and most certainly the future.
Features, features, features
Alright, that touched upon some theoretical things and a little bit of history, but the most important things are features, right? So what's actually new in Pixelmator Pro? Well, one thing that's changed is everything (ha ha). Everything has been rewritten from scratch to be faster and work more reliably. You won't notice that in the screenshots, but it'll become immediately obvious once you start using the app.
As for actual features, all the things mentioned below are new to Pixelmator Pro.
• Pixelmator Pro has a completely
new design
— it has a single-window, fully Mac-native interface. Layers are now on the left, tools on the right, and the overall workflow is much more user-centered. We've also added a beautiful light appearance, which was an often-requested feature with the original Pixelmator. There are smaller (but equally awesome) things as well, like the ability to completely hide the interface, intelligent auto-centering (and the ability to scroll beyond the edges of the canvas), a redesigned photo browser, and more. We also have a whole bunch of plans for improving the interface and workflow of Pixelmator Pro and having a completely new design opens up some very exciting possibilities. Things are only going to get better.
• Resizing in Pixelmator Pro is
nondestructive
(so if you scale something down and decide to scale it back up later, you won't lose quality). It's one of those things you might not really notice at first, but once you get used to it, you'll wonder how you ever lived without it. We've added completely new alignment and distribution tools to make it easier to even out the spacing between objects. The Layers sidebar has two different views — Thumbnails and List — which you can choose between based on whether you like more text or image-based layer organization. And the Core ML-powered automatic layer naming feature automatically detects the contents of images you add and gives descriptive names to your layers. All great features new to Pixelmator Pro.
• In terms of
painting tools
, Pixelmator Pro has a completely new, Metal-powered painting engine that brings the same great painting experience we created in Pixelmator for iOS to the Mac, with customizable dual texture brushes, full support for graphics tablets (including the ability to adjust brush opacity using pen pressure), dynamic paint blending, watercolor brushes, and more.
• The
color adjustments
have been conceived and built from scratch — they're nondestructive and intelligently preserve color detail. There's full RAW support, RAW layers, a live histogram (three, in fact!), plus you can save combinations of adjustments as presets, share them, and use them for batch processing. Oh, you can also enhance your photos using
the
most intelligent auto-enhance tool
out there (powered by machine learning, naturally). Is that it? No, there's more, but I'm running out of space…
• The
effects
are nondestructive. There are new effects, like Box, Disc, and Spin blurs, a Bokeh filter, as well as new Image and Pattern fills. You can save combinations of effects as presets, share them, use any effect or combination of effects for batch processing, and easily copy effects from layer to layer. All things the original Pixelmator doesn't have.
More, more, more
That covers much less than half of what's new in Pixelmator Pro. Some other highlight features include a much more powerful
Export for Web
tool, which includes support for exporting images at multiple scale factors, advanced PNG compression, export presets, and a Quick Export feature. The vector tools have been redesigned so it's much easier to combine multiple paths into shapes and work on them. Oh, there's SVG support too! The
Reshaping tools
preserve image quality and sharpness much better and work faster. Live blending mode previews make it easier to pick and choose how to blend your layers.
And, of course, that's still not everything. But that should give you a good idea about what to expect. If you use the original Pixelmator for editing your photos, there's a whole range of awesome additions for you in Pixelmator Pro. If you use it for painting, ditto. If you use it for social media imagery for your business, YouTube thumbnails, UI designs, layouts, anything at all, really, you're sure to find some great new features to love. And if you find something you'd like to us to improve, we're always listening. Over the past 11 months, we've
added so much
to Pixelmator Pro already and we have no plans to slow down.
One more thing…
The price. After almost a year at $59.99, we can say that this wasn't the right price. Obviously, we had somewhat different plans for pricing when we launched and we could leave things as they are, try to power through, but if things aren't working, you need to change them. Today, as we're (finally) ending our sale, Pixelmator Pro will now be sold for $39.99.
Deciding on a price for your app is a weird and wonderful thing. Despite what some people may think, it's not motivated by greed (at least not for us). In fact, it's mostly common knowledge that profits don't change too much depending on your price (that's all down to shipping good updates and continuously improving your app). A higher price results in lower sales and a lower price in higher sales, so everything evens out in the end. Essentially, the price often acts as a filter.
We make Pixelmator Pro for a particular kind of user, mostly people like ourselves. The price and the message can attract different kinds of users with different expectations — people who want every possible feature, people who want an entry-level app experience, people who want a completely pro experience, people who want the app to be similar to one app or another, and so on. If you attract users whose expectations you aren't aiming to meet, you're going to have a bad time.
We want people who see things the way that we do to become our users and to shape the future of Pixelmator Pro. And that's where this new price comes in. So if you're currently using the original Pixelmator, give Pixelmator Pro a try — we've got a completely free 30-day trial that you can use with no restrictions. And we hope you'll join us in making Pixelmator Pro the kind of dream app we all want it to be.