The Pixelmator Team today released Pixelmator Pro, a brand new Mac app that redefines image editing on the Mac, providing professional-grade editing tools in an incredibly intuitive and accessible design. Pixelmator Pro 1.0, codenamed Whirlwind, includes a modern single-window interface, nondestructive, GPU-powered image editing tools, machine learning-enhanced editing features, and more.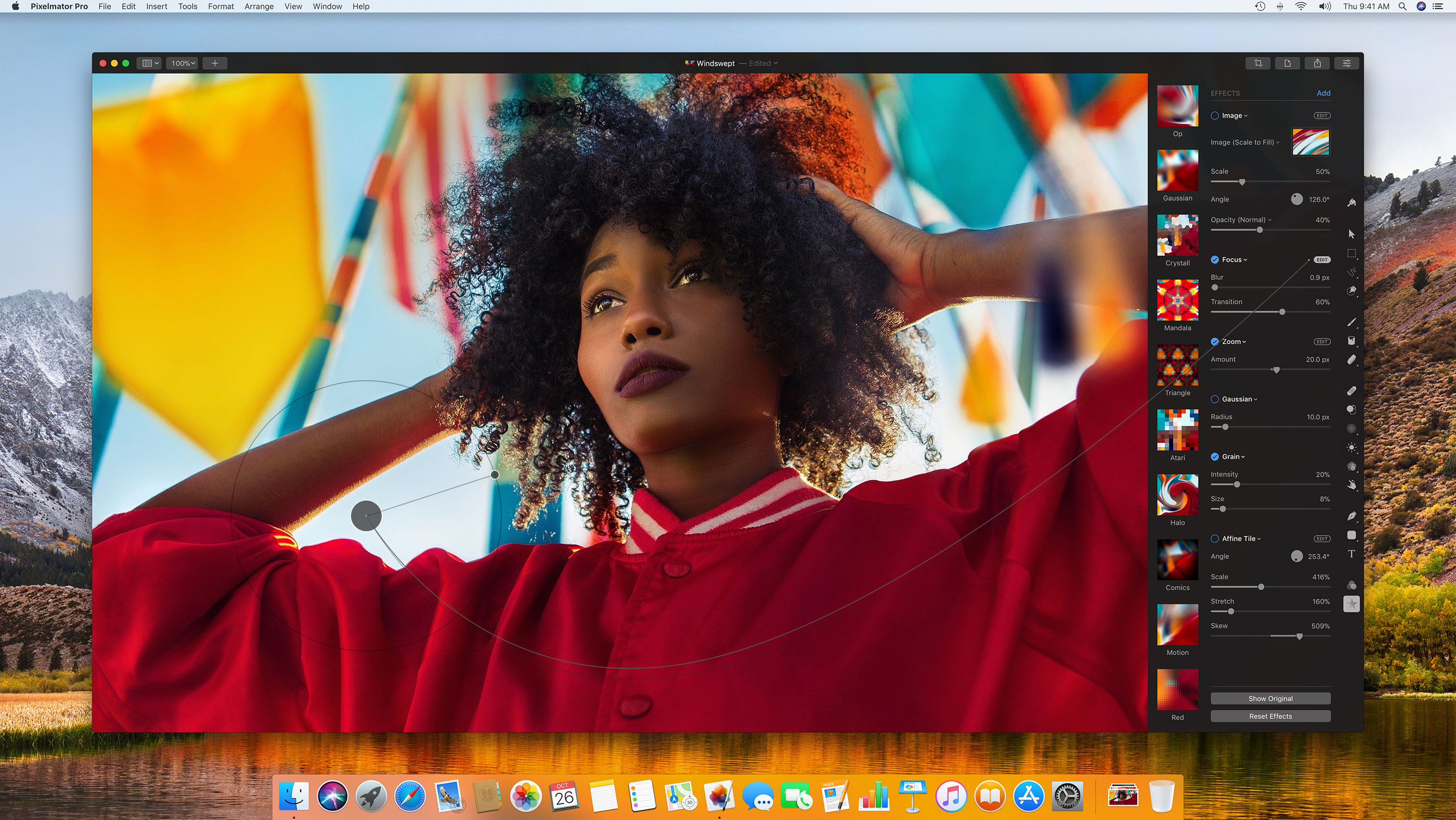 "We're incredibly excited to finally release Pixelmator Pro on the Mac App Store," said Saulius Dailide, one of the founders of the Pixelmator Team. "Its innovative, user-centered design makes editing images on a Mac simpler than ever. And with its GPU-powered and machine learning-enhanced editing tools, Pixelmator Pro is built for the future."
The modern, dark single-window interface of Pixelmator Pro has been created exclusively for working with images. A streamlined, macOS-inspired design provides a completely native Mac app experience and is fully consistent with the look and feel of macOS. And a reimagined, user-centered workflow design makes the professional editing tools in Pixelmator Pro especially accessible, even to first-time users.
Completely nondestructive color adjustments, effects, styles, and layouting tools in Pixelmator Pro give users the freedom and flexibility to go back and modify or delete individual changes at any point in the editing workflow. Thanks to the new presets feature, you can create endless combinations of multiple adjustments, effects, or styles, save them to your favorites and reuse them in any of your images. Drag-and-drop sharing also makes it a breeze to share presets with others.
Pixelmator Pro pushes the boundaries of image editing, using breakthrough machine learning to deliver more intelligent editing tools and features. Integrated via the new, blazing fast Core ML framework, machine learning lets Pixelmator Pro detect and understand various features within images, bringing a number of groundbreaking advancements, such as jaw-droppingly accurate automatic layer naming, automatic horizon detection, stunningly realistic object removal, and intelligent quick selections.
Designed exclusively for the Mac, Pixelmator Pro uses the Mac graphics processor in tandem with the latest Mac graphics technologies, such as Metal 2, Core Image, and OpenGL, to deliver blistering fast, GPU-powered image editing. Built with Swift 4, Pixelmator Pro is a next-generation app that takes full advantage of the latest technological innovations in hardware and software.
The Pixelmator Team has packed a wide range of features and innovations into Pixelmator Pro, such as full RAW support, including support for multiple RAW layers; HEIF file format compatibility; superior support for Adobe Photoshop images; complete macOS integration via full support for iCloud, Versions, Tabs, Full Screen, Split View, Sharing, Wide Color, and others; Metal 2-powered painting tools and dual texture brushes; powerful retouching, reshaping, selecting, type, shape and vector tools; and a lot more. In addition, a number of free updates adding major new features to Pixelmator Pro are already lined up for the very near future.
Pixelmator Pro 1.0 Whirlwind is available exclusively from the Mac App Store for $59.99.
Pixelmator Pro requires macOS High Sierra and a Metal-compatible graphics card. Full system requirements and more information on Pixelmator Pro can be found at
www.pixelmator.com/pro/
.