So I tried to open a bit larger photo and got this warning and wasn't able to open it: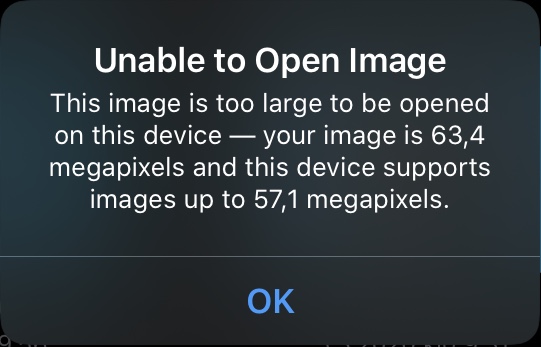 There is no device limitation of this size because I had zero problems opening it in Affinity Photo. The photo itself is a dng-file. It is also a stitched panorama made in Photoshop. Filesize is ~230megabytes and something like 10000 x 5000 etc. Funny thing: when I check the info in the Files App OR Pixelmator Photo it says it is 563x1024.
edit:
Ps. While I scroll in the photos library in Pixelmator Photo it lags when there is many RAW-files on the screen. Seems like that is because of large filesizes, but it think it should still scroll smoothly! Also, there are no problems when scrolling in the files app-view with only raw files in same folder.