2019-09-11 16:53:25
I have 500+ photos on my iPad. Now since there is no Camera Roll Album, I must scroll through All Photos (500+) photos flipping back and forth between the Photos app and Pixelmator Photo in order to figure out which photos to select. Not exactly an efficient workflow.

2019-09-12 21:31:53
Isn't All Photos just the same as the Camera Roll?? I'm seeing all my images in both as well as all albums unless I'm not understanding the concern?
2019-09-13 14:41:27
Yeah, I think maybe we're misunderstanding the issue — albums should definitely be visible in the Pixelmator Photo browser, maybe a screenshot with some more details would help?
2019-09-18 06:17:40
If I'm understanding everything correctly, the Camera Roll and Pixelmator Photo's
All Photos
should be identical. Are they not? Could you maybe email us about this at
support@pixelmator.com
and let us know what photos from your Camera Roll are not showing up in All Photos, perhaps with screenshots?

2019-09-18 14:26:21
Hello Andrius,
In my environment, the Camera Roll Album and Pixelmator Photo's All Photos are not identical. I have 20+ Photo Albums that I have downloaded to Apple's Photos App via iTunes. So in my environment the Camera Roll Album is a subset of Pixelmator Photo's All Photos. My issue with Pixelmator Photo is that it does not display the Camera Roll Album.
Why do I want the Camera Roll Album displayed? Consider this scenario - I shoot two photos. They are stored in the Camera Roll Album. I open Pixelmator Photo and all 20+ Albums are displayed except for the Camera Roll Album. So now I must scroll through Pixelmator Photo's All Photos (500+ photos) to locate/select two photos. Not exactly an efficient workflow.
Thanks,
Pete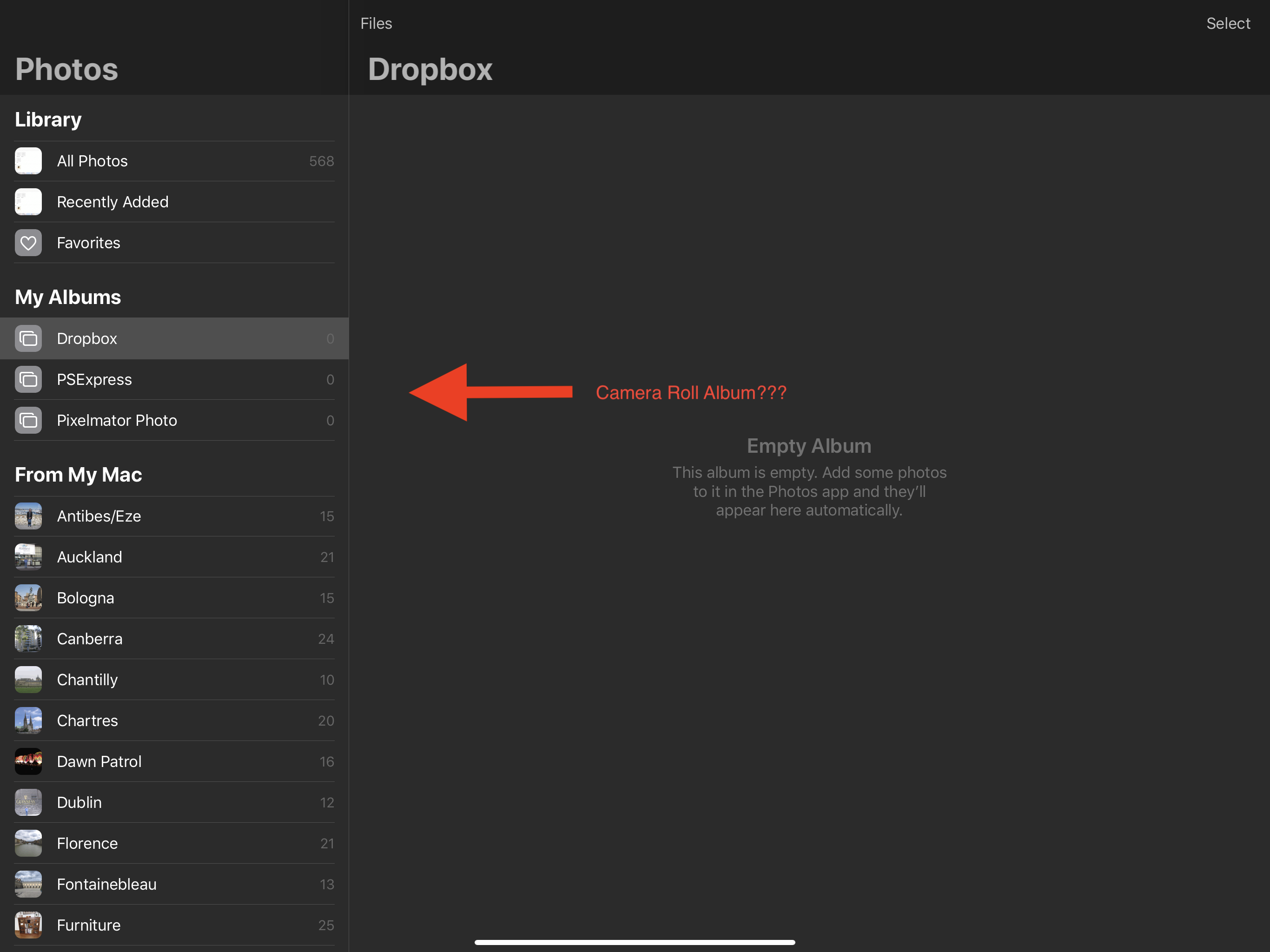 2019-09-20 07:53:18
Thanks for the explanation, the issue was a little hard to pin down because the Camera Roll is actually not universally present for everyone. Under certain conditions, users will have an "All Photos" album, sometimes it can be "Recents", and other times it will be a "Camera Roll", as you have. That usually seems to be the case when iCloud is turned off and, in the other cases, the version of iOS also seems to have an impact. In any case, we seem to have fixed this and we'll be releasing an updated beta version probably later today, so we'd love to hear whether everything works fine for you.

Also, thanks for your patience and perseverence!